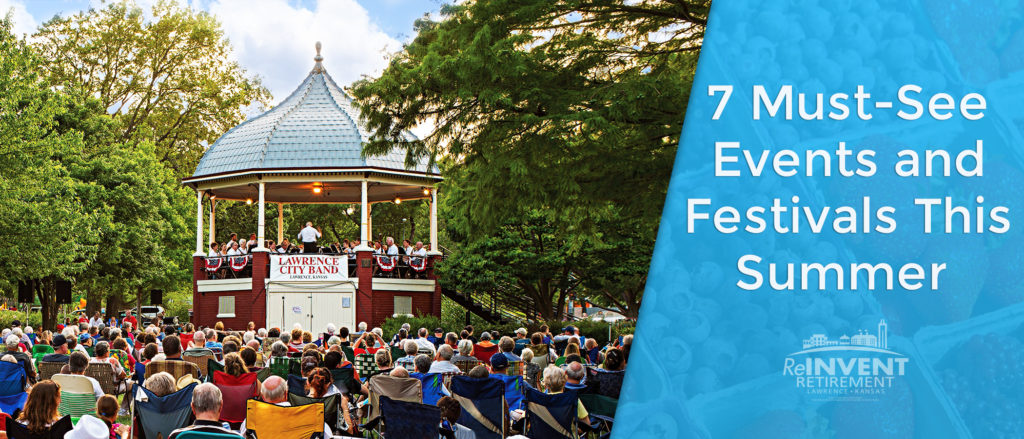 Upon entering retirement, many men and women wonder if they will find activities, hobbies, and friends to help fill time previously spent cultivating their careers.  According to a 2010 research study conducted by Pew Research Center, staying socially connected ranks as one of the three keys to happiness during retirement. Being socially active decreases the risk of mental illness, increases the possibility of creating a support network, and ultimately corresponds to more physical activity. Here in Lawrence and the surrounding communities, there are many activities available that will allow new experiences, open up possibilities for a new hobby or are fun for free or at a minimal cost.  Many of these Lawrence events are happening within the next several weeks.
1 – Lawrence Busker Festival
Kick off your Memorial Day weekend with the ninth annual Lawrence Busker Festival. Showcasing the world of street performers, this free festival runs Friday, May 27th through Sunday, May 29th. Line up your friends on Massachusetts Street and have some fun people watching as the performers put on an unforgettable show.
2 – Downtown Lawrence Farmers Market
Sponsored by The Merc and HyVee, the Lawrence Farmers Market is the oldest Farmers Market in Kansas. Open on Saturdays from 7 a.m.-11 a.m. in the 800 block of New Hampshire Street and Tuesdays from 4 p.m.-6 p.m. at the Lawrence Public Library outdoor plaza on Vermont Street, this wonderful farmers market boasts vendors from surrounding counties selling the season's finest and freshest fruits, vegetables, baked goods – and also crafts, gifts, and samples from area restaurants. Perhaps cooking is a new-found hobby during retirement – and if not, the farmers market is a great way to get out and meet new people. There is something for everyone at both of these available markets. Come weekly and stock up for this season's best eating.
3 – Dinner and a Movie
Looking for a fun family or friend outing periodically this summer? Scheduled for June 17th, July 8th, and August 12th, the Dinner and a Movie offers a special evening out and is a great way to meet friends for dining outdoors, listening to live music, and catching a movie (also outdoors).  Mobile food vendors, restaurant booths, beer, and wine are available, or everyone is welcome to bring-your-own dinner picnic-style. The following movies are scheduled for this season:
June 17 – Ferris Bueller's Day Off
July 8 – A League of Their Own
August 12 – Big Hero 6
There is fun for all ages, including face painting, free raffle tickets for door prizes donated by Downtown Lawrence shops, free popcorn, and different community outreach vendors to help you learn more about all Lawrence has to offer. Bring the grandkids, family, friends, or neighbors and enjoy a fun, unique community event designed for all ages. "This year we moved our Dinner and a Movie from Thursdays to Fridays to make it easier on families to attend and connect with the Lawrence community," stated Sally Zogry, Executive Director of Downtown Lawrence, Inc..  Dinner and music starts at approximately 7:30 p.m. followed by the movie at approximately 9 p.m.
4 – What Floats Your Boat
If retirement has led you to feeling like giving back financially to the community, hop in your car on June 18th for a short drive to Clinton Lake. What Floats Your Boat, an annual fundraiser benefitting Van-Go, allows you to support a local non-profit that aids in job training for high-need and underserved youth between the ages of 14-24. This enchanting evening is filled with jazz, auctioned art, great food, and dancing. Individual tickets are available, as well as sponsoring a table for this evening-for-a-cause.
5 – The Free State Festival
Hosted by the University of Kansas, the Kansas Department of Commerce, and many other distinguished local and national sponsors, this festival highlights art, music, and film and is featured at The Lawrence Arts Center. Starting Monday, June 20th, and running through Saturday, June 25th, live performances are scheduled throughout the week as well as award-winning documentaries, comedians, and artists. For more information on this event, or to pre-order tickets, go here. This event is for the young, old, and everyone in between. It offers such a variety of experiences that it can fit any lifestyle – and due to it being a week-long event, you can come and go depending on what fits your schedule and interests.
6 – Go Fourth! Festival
Mark your calendars early for this year's updated 4th of July festival, Go Fourth!, to be held at Burcham Park. Check out a car show, play some family fun games, listen to live music, and celebrate America at this festival ending with a spectacular fireworks show. Parking is made easier this year with ample parking at Burcham Park, or by shuttling from Downtown Lawrence for free. Carpooling is recommended, so gather some friends and head out for a freedom-filled day of fun.
Additional fireworks displays will be happening in surrounding counties. One near Lawrence is Baldwin City. They will host fireworks beginning at 9:30 p.m. at the Intermediate Center.
7 – The 57th Annual Downtown Lawrence Sidewalk Sale
Mark your calendars – on Thursday, July 21st, Massachusetts Street will be transformed into a giant sidewalk sale. Held rain or shine, sun up to sun down, this yearly event draws shoppers from many surrounding counties. Restrooms and "filling stations" are provided, so when you need a break, some water, or air conditioning, you are covered! Whether you are looking for clothes, shoes, art, jewelry, accessories, or games, this sale will allow even the most inexperienced of shoppers to stock up on great bargains or get a jump start on holiday shopping. Bring a friend and start early!
It is a busy time of year. To stay connected, meet new friends, and learn more about all things Lawrence and the surrounding counties, sign up here to receive our monthly newsletter. With all this area has to offer, spring and summer are perfect for spending time with others!