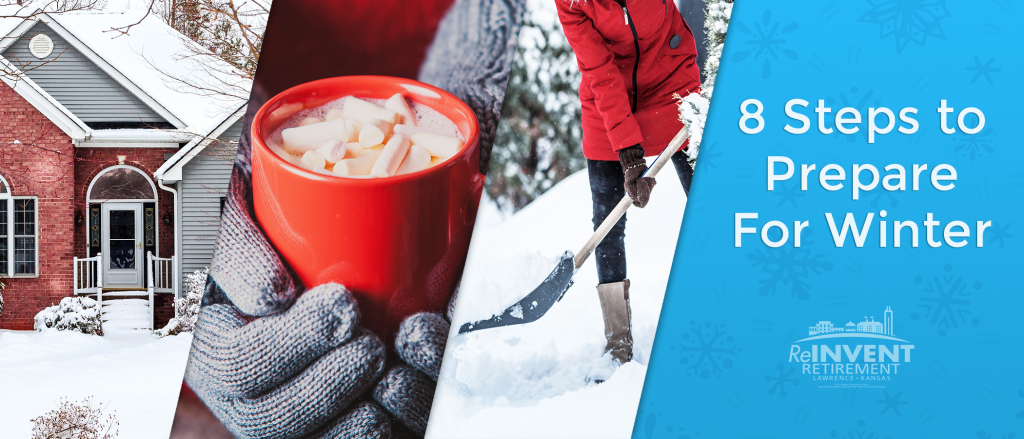 Winter is here – time to curl up with a good book and your favorite sweater while enjoying the comforts of your home. As winter approaches, here are a few tips to help you prepare for winter and have a safe and healthy season.
1- Plan Now, Be Safe Later
To ensure safety for you and others who are coming and going from your home, check to see all outdoor railings are secure and walkways are free of wobbly paving stones or bricks. Also consider volunteering for Douglas County's Safe Winter Walkways snow shoveling service. A great way to meet your community, Safe Winter Walkways matches volunteers with residents age 60 or older who are unable to shovel their own sidewalks. Measurable snowfall in Lawrence occurs an average of 8 days per year with 4.6 days receiving at least 1inch of snow- just enough to be both beautiful and manageable.
2- Keep Yourself (and Your Wallet) Warm
A key factor in home winterization is recognizing the importance of a warm home. 'Just a little chill' may not only have a negative effect on your health, it can also be the symptom of a home-energy leak that could be making your electric bill higher than necessary. Consider using draft guards [or rolled up towels] under entry doors, window insulation kits, seals for unused fireplaces, and reversing the direction of your ceiling fans to push hot air accumulating near the ceiling down to your living space. For more ideas, check out these energy saving tips.
3- Pile On the Layers
Dressing in layers and using blankets and sweaters to keep warm is a good way to keep warm without spending extra to keep the house at an ideal heat and helps your body stay warm when you're out and about. When you do venture outside to shop or retrieve the mail, have a good pair of no-skid shoes to wear to help prevent falls.
4- Open the Curtains
It may seem counterproductive to have the curtains wide open when you're trying to save on heat and energy costs, yet letting sunlight in provides free heat and helps combat Seasonal Affective Disorder (SAD.) With a brighter home and additional pops of color, you'll feel more motivated and energetic during the winter months.
5- Keep a Balanced Diet
Eating well-balanced meals with plenty of fruits, vegetables, and foods rich in omega 3s keeps you energized and provides another way to combat SAD. A valuable Lawrence nutrition resource is the CHAMPSS program that provides seniors age 60+ with affordable, or even free, balanced meals available for pick up at several convenient locations. Another option is the the Senior Resource Center for Douglas County's Senior Meals program that hand delivers an average of 260 meals a day.
Another dietary need crucial in winter months is vitamin D. Vitamin D deficiency is seen in 80% of hip fracture patients and in a surprisingly high percentage of the general population. Studies have shown 800IU of vitamin D per day reduces the risk of fractures in seniors by 20%, maintains healthy bones and teeth, and supports the immune system.
6- Keep Moving and Stay Connected
Winter is an important time to be active as exercise boosts immunity, happiness, and energy, keeping you moving in a season when people tend to become more sedentary. Lawrence has many opportunities to be active during winter with dance classes, an indoor aquatic center, and the free gym and indoor walking track at Sports Pavilion Lawrence.
Aside from keeping you more fit, visiting recreation facilities is a great way to meet with friends and acquaintances during the winter months. You can also keep your social life active by taking an arts class, enrolling in a recreation class specifically for residents age 50+, or visiting The Senior Resource Center for Douglas County to ask about their weekly activities such as Downtown Tuesday Painters, dance classes, intergenerational choir, or their future reading room.
7- Safe Driving
Prepare for winter on the road by packing an emergency kit for your car with at least 2 blankets, nuts or granola bars, a flashlight, extra windshield washer fluid, and a small shovel. A cell phone, charger, and gas tank that is at least half full even when traveling a short distance is also key to safe travel. When preparing to drive, always remember to back your car completely out of the garage before warming it up as even an open garage can create dangerous levels of carbon dioxide.
If an emergency occurs while driving, call for help on your cell phone. If you are on snow covered roads and plan to keep your car running while waiting for help, be sure the exhaust pipe is not packed with snow. Most importantly, drive slowly and safely on ice and snow with minimal brake usage. After all, it really is "better to arrive late than not at all."
If you want to avoid winter driving or do not feel comfortable with it, contact SRC's Senior Wheels or use the Lawrence Transit system.
8- Have a Plan
With the possibility of a winter storm power-outage, it's important to evaluate your pantry and home with a power-outage plan in mind.
Always have several days' supply of nonperishable food such as tuna, peanut butter, granola bars, nuts, and canned fruit.
Keep a manual can opener handy.
If you have a gas powered stove you can heat canned soups and vegetables. You can also boil a pot of water on your gas range during the outage to help moisten the air as moist air keeps and maintains heat better than dry winter air.
If the power is out for more than a few hours, be mindful of eating foods that may spoil quickly without a working fridge. Follow these guidelines to know what food is safe to eat when power is restored.
Keep flashlights, extra batteries, candles, and a battery operated radio in an easy to find location.
Stay warm. If your home becomes too cold, listen to local radio stations for locations of local emergency shelters you can visit to keep warm. Don't hesitate to drive to one of these shelters or call a friend to help get you there.
Have a car charger to keep your cell phone charged or a corded landline phone to ensure you can contact someone in an emergency.
With these 8 steps and key Lawrence amenities and resources, you're set for a safe and fun winter in which you can enjoy the snow while knowing you're prepared for any situation and can safely venture to local holiday activities, dining locations, and places to exercise