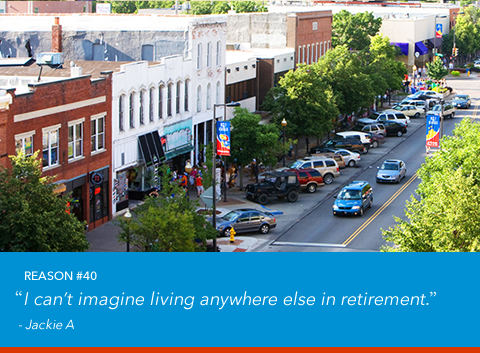 Relocate
Ready to design the second half of life the way you want it?
Include exciting arts and cultural events, sports galore, quiet rural exploration, fun shopping and dining, quirky festivals, and casual neighborhood get-togethers. Design a second career or an extended vacation (formerly called "retirement!"). Continue to use your skills as a volunteer. Whatever you're looking for, Lawrence, Baldwin City, Eudora, Lecompton, and rural Douglas County have what you want for the next chapter of your life.
Lawrence is known today for its great community lifestyle and diverse culture. It's got a small town spirit with big city amenities like national college sports teams and world-class arts venues. Named a "Great Place to Retire" by U.S. News and World Report, there's something for everyone here.
As you think about where to retire, and especially if you are wanting a vibrant retirement, think about Lawrence and the surrounding communities of Baldwin City, Eudora, Lecompton, and rural Douglas County.
It's your retirement, your way. Start here. We'll show you all that it can be.
If you need information about retiring in Douglas County, we can connect you to area resources.  Contact us using our online form or call 785-842-0543.
Local Government
The local government in Lawrence is run by the City Commission and the City Manager's Office. While in many cities you may feel distant from your officials, Lawrence officials can be found frequently at their favorite Lawrence hangouts or events and always welcome you to take part in your government.
Rich History
Lawrence was founded in 1854 by the New England Emigrant Aid Company and was named for Amos Adams Lawrence, a New England abolitionist who offered financial aid and support for the settlement. Popularized for its abolitionist view during the civil war, Lawrence became central to the Bleeding Kansas era and was the site of the Wakarusa War, the sacking of Lawrence and the Lawrence Massacre.
Surrounding Communities
Douglas County offers a diverse group of communities. Lawrence, Baldwin City, Eudora, Lecompton and rural Douglas County all have distinct and unique features yet are close enough to enjoy each others amenities and community. We invite you to visit and explore these delightful communities.
Support Services
Lawrence and Douglas County have a unique blend of small town attitude and up-to-date services (You can still call city hall and talk to a person.). But the small town flavor doesn't mean behind the times. Lawrence & Douglas County have made sure that their services are top quality; their personnel, educated and highly trained; and the residents kept safe.
Climate
If you enjoy all four seasons, then this is the place for you. Did you know Lawrence is named Tree City USA by the National Arbor Day Foundation? This means you get to enjoy the beautiful changing leaves in the lengthy Fall and the fresh budding flowers in the long Spring. Yes we do get humid weeks in the summer and the odd snow fall in the winter, but the changing seasons means just enough of everything to enjoy.
Awards & Accolades
Don't just take our word for it, others near and far have noticed just how spectacular this community is. Lawrence and Douglas County have found their way on numerous lists  – "One of the Nations top 100 hospitals", "A distinctive destination. One of the unique communities in America," Massachusetts Street one of the top 10 great streets", and "One of the best places to retire".