Discover Lecompton, KS
Lecompton is a vibrant, sprawling rural community in Douglas County. Near I-70 between Kansas City and Topeka, it's easily accessed with three larger cities nearby. Lecompton has a rich history that makes it a popular destination for tour groups and history buffs.
When to visit
Territorial Days
Held at the end of June, visitors can see pioneer skills demonstrations and the Bleeding Kansas Play. Tours of Constitution Hall, Territorial Capital Museum, 1892 City Jail and Territorial Democratic Headquarters are available too. Visit their website or Facebook page for additional details.
Bald Eagle Rendezvous
Located at Bald Eagle Park at the end of every September. This is an opportunity to see mountain men and Native Americans display their skills.
Christmas at the Territorial Capital Museum
The museum is extensively  decorated with 33 trees that contain antique, vintage or themed decorations. Also, a 15-foot native Christmas tree with decorations. The Christmas Vespers is held December 7th, 2014 at 2:00 p.m.
Bleeding Kansas Lecture Series
Located at Constitution Hall, this is a series of speakers who present programs about the history of Kansas and Missouri. If you missed the series, check out the Historic Lecompton Youtube channel and learn about this important history.
Why Lecompton?
For those wanting a small town and rural experience that is central to great amenities, Lecompton is the place. With a population of 625, Lecompton sites on the cusp of the Flint Hills. It is a small but open and welcoming community.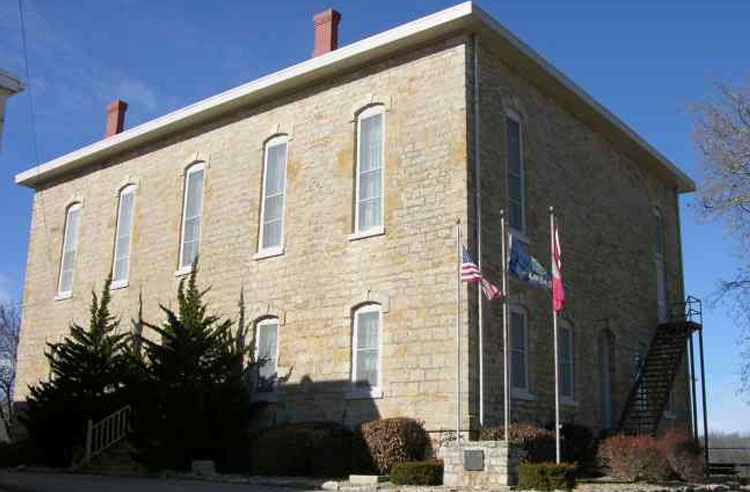 Territorial Capitol Museum
Housed in the former capitol building and school, it is now a community historical museum. The building presently contains three floors of artifacts which include information from pre-Civil War Kansas through the Lane University period. Although viewing everything in the three floors of exhibits could take several hours, most visitors will be satisfied with an hour.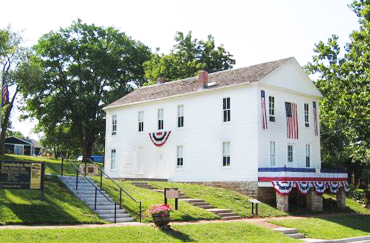 Constitution Hall
Constitutional Hall is a building in that played a role in the long-running Bleeding Kansas crisis. It is operated by the Kansas Historical Society.
Lecompton History
Lecompton played a major historical role in pre-Civil War America as the Territorial capital of Kansas from 1855 to 1861. This time period was known as Bleeding Kansas. Lecompton (Kansas Territorial Capital) is the site of the writing of the controversial "Lecompton Constitution" for admittance of Kansas into the union as a pro-slavery state. The document written in Constitution Hall sparked a chain of events that divided the nation and eventually culminated in the Civil War.
Originally called "Bald Eagle," historic Lecompton is located about halfway between Topeka and Lawrence, three miles from Highways 40 or 24, and also five miles from the Lecompton Turnpike Interchange, Exit 197.
Come see historic Lecompton, view a large selection of pre-Civil War maps and books at Lane University Museum. See the National Landmark Constitution Hall and the charming Democratic Headquarters.