Transportation to Area
Lawrence has a central location that gives you easy access no matter what your preferred mode of transportation is. From any place in the country, we're just a plane, train, car, or bus trip away.
Arrive by Air
Lawrence is only 40 minutes away from Kansas City International Airport, which makes it easy for you to travel anywhere in the country. With two other airports nearby, flying for business and pleasure is never out of reach.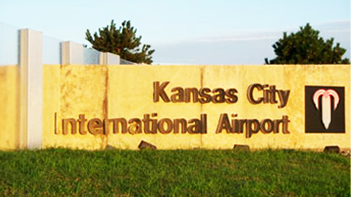 Kansas City International Airport
One of America's biggest airports, KCI connects millions of passengers a year to domestic and international destinations. It's also a key hub for the Midwest states of Iowa, Kansas, Missouri and Nebraska.
KCI is considered one of the most efficient and easily accessible airports in the USA, with a low number of flight delays and lack of congestion due to proximity of ticket counters to the gates.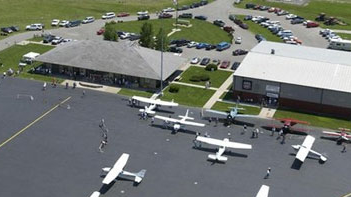 Lawrence Municipal Airport
An uncontrolled airfield, Lawrence Municipal Airport averages more than 100 daily flight operations of single-engine, twin-engine and business jets. With a 5,700 foot runway and Class I Instrument Landing System, LWC is an outstanding all-weather airport for the recreational or business flyer.
A complete range of aviation services are available, including aircraft rental, flight instruction, hangar rental, and a full-service Fixed Base Operator seven days a week from 8 a.m. to 8 p.m.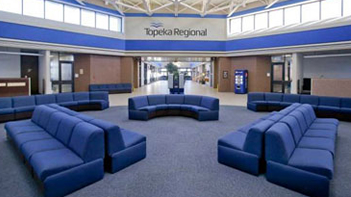 Topeka Regional Airport
Topeka Regional Airport is a public airport owned by the Metropolitan Topeka Airport Authority in Shawnee County, Kansas, seven miles south of downtown Topeka, the capital city of Kansas. (map)
United flies nonstop from Topeka Regional Airport (FOE), making connections through Chicago O'Hare (ORD) to 160 world-wide destinations. ExpressJet operates the United Express service using fifty-passenger regional jets with daily departures and arrivals, seven days a week.
Travel by train to Lawrence
The Lawrence Amtrak station is just east of downtown, 413 E. 7th Street, and easily walkable if you are good on your feet.
The train usually arrives at about midnight nightly from Kansas City, and departs westward after dropping off Lawrence passengers. From the West the train arrives at around 6am, departing eastward after Lawrence passengers disembarked.
There is no phone number for the Lawrence Station, but you can get information about fares and schedules by calling toll free 1-800-USA-RAIL (872-7245) or visit Amtrak online at www.amtrak.com.
Taking the bus to Lawrence
Greyhound bus service to Lawrence
For the ease of the open road without the hassle of driving, it's easy to utilize Lawrence's Greyhound Bus Station to get to Lawrence. You'll find the bus station on 6th street, just north of Kansas State University, near Centennial Park. The greyhound bus travels through Lawrence once around 9am and again around 2pm. Check their website for specific departure and arrival times.
The Lawrence bus station address:
2447 W 6TH ST
Lawrence, KS 66049
Public Transit within Lawrence
Lawrence bus public transit  makes sure everyone is comfortable and able to ride the bus. With routes that touch nearly every part of the city, it's easy to get around. For those new to the bus, there is a detailed help section on their website that will help you know how it works. The bus will also connect you to greater Kansas City via The Jo, from Monday to Friday.
Did you know? Text for next bus
Find out easily when the next bus is coming. Simply send a text message to (785) 312-2414 with your current bus stop number to find out when their bus will arrive. When a text message with the bus stop number is sent, the system then predicts when the next bus will arrive at the selected stop.
Using a bus shuttle service
Numerous shuttles run between the Kansas City Airport and Lawrence, times, location stops vary between service providers.