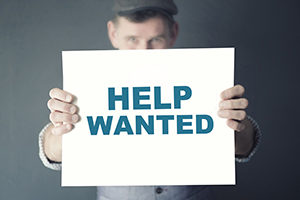 Help Wanted
Need some help around the house or with copious upkeep items? Check back to connect with other seniors willing to lend a hand.
Seniors, let us post what you want to sell. Advertise your garage sales. Fill out this form and submit it online, or mail or bring it to the Senior Resource Center, 745 Vermont, Lawrence, KS 66044. Call 785-842-0543 for more information.
School Crossing Guard – Woodlawn & Sunset Elementary Schools
The City of Lawrence is seeking School Crossing Guards. These are part-time temporary positions. Duties include responsible part-time work facilitating safe passage at school crossings. An employee in this class is responsible for directing children on foot and motor traffic at a street location where children cross when going to and from school. These crossing guard vacancies are expected to service Woodlawn and Sunset Elementary Schools.
Approximately 7:20 AM – 8:10 AM and 3:00 PM – 3:40 PM Monday, Tuesday, Thursday & Friday. And, 7:20 AM – 8:10 AM and 1:30 PM – 2:10 PM Wednesdays, beginning August 15th and ending in May 2019. Reimbursed at three hours a day for one school.
OPEN UNTIL FILLED.  Apply online at https://lawrenceks.org/Jobs/. For more information contact Brad Harrell at Bharrell@lawrenceks.org
Delivery Driver – Dillons Floral & Pharmacy
Dillons Store 615 has a opening for a delivery driver.  This part-time position would offer 10 – 20 hours per week making deliveries for the Floral and Pharmacy departments.
Apply online at jobs.kroger.com or in person at  the 6th & Wakarusa Dillons location.
For more information contact Jeri Kiefer.
Seniors encouraged to apply.