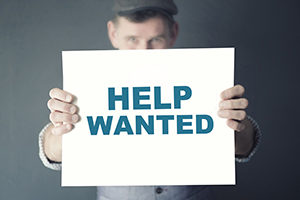 Help Wanted
Need some help around the house or with copious upkeep items? Check back to connect with other seniors willing to lend a hand.
Seniors, let us post what you want to sell. Advertise your garage sales. Fill out this form and submit it online, or mail or bring it to the Senior Resource Center, 745 Vermont, Lawrence, KS 66044. Call 785-842-0543 for more information.
Temporary Maintenance Worker – Compost Gate Staff
The Compost Facility Gate Staff will work 8:45 a.m. to 3:15 p.m. every Saturday starting March 4th and ending in December 2017. Gate Staff will open and close the facility, receive payment for vehicles dropping off brush and picking up compost or wood chips, and transport work materials to designated site for reconciliation. Must have valid driver's license; pass background check and post-offer physical/drug screening. Apply online at https://citizenaccess.lawrenceks.org/citizenaccess/. Assistance with online applications is available through Human Resources at City Hall on the second floor. For best consideration apply ASAP.