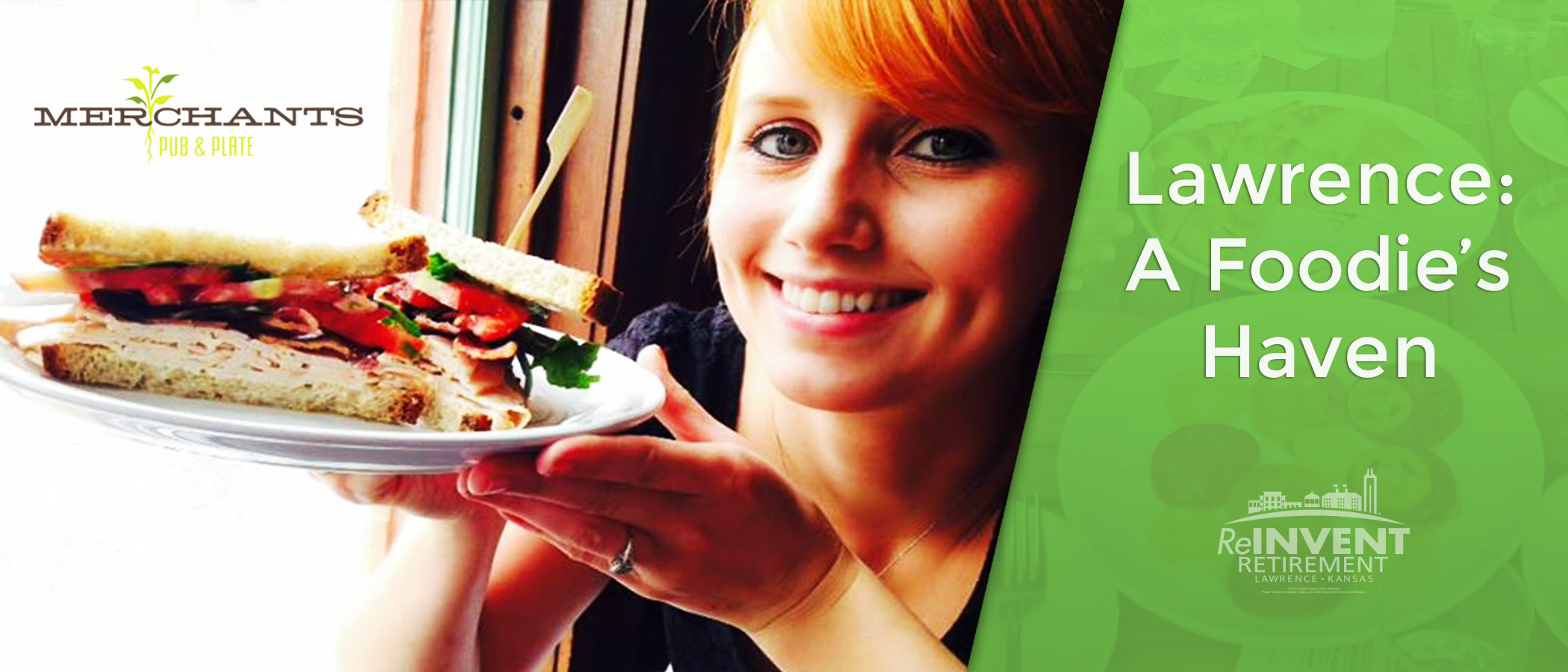 Fantastic food at Merchants Pub & Plate
With an artistic culture paired with a strong entrepreneurial spirit, it's no surprise Lawrence has become known locally and nationally as a culinary hot-spot for foodies and chefs alike. While visitors are often surprised at the variety Lawrence can offer, any Douglas County resident can tell you the options are endless.
Start the Day Right
Feel like a gourmet Eggs Benedict or Smoked Salmon Bagel is the perfect way to start your morning? What about a Breakfast Margarita or Champagne Supernova to go with it? For creative breakfast, lunch, coffee, and cocktails, "lift your morning spirits" with The Roost, a fun cafe to jumpstart a day in downtown Lawrence or to enjoy a lunch pit-stop. Another Lawrence morning favorite is the classic vintage Ladybird Diner– a greasy spoon blast from the past serving up breakfast and dinner diner classics all day in addition to providing our community's Best in Lawrence pie selection. For a more specialized menu, The Waffle Iron is fast becoming a Lawrence weekend staple. With only waffles on the menu, you can be sure you will be served waffles done right. Creative waffle toppings and flavors include blueberry lemon curd, cookie butter, smoked salmon, vanilla bean maple, and the waffle benedict.
Fine Food, Innovative Cocktails, Local Brewed Beer
If quality cuisine and a variety of creative cocktails appeal to you, 715 Mass is the place to be. With a menu including refreshing appetizers and fresh homemade pasta, the addition of creative cocktails such as the locally acclaimed Clockwork Orange and the Best of Lawrence winning wine list keep locals coming back for more. If an award winning beer selection is more your style, Merchant's Pub & Plate is a favorite that, in addition to its selection of 30 beers on tap and wide variety of delicious cocktails, prides itself on crafting a refined menu featuring foods from local farmers. With local foods as their guide, Merchants features dishes such as duck carnitas, fresh sweet pea hummus, a sweet potato quinoa burger, and the luxury comfort food king the mac and cheesemonger.
If you'd rather go to the source of great beer, the local Free State Brewing Company is a Midwestern favorite based in Lawrence. Free State not only brews a broad selection of award winning beers on site and has many seasonal favorites on tap, they were also voted the 2015 Best In Lawrence in overall menu and overall restaurant categories. Their menu includes local favorites such as gorgonzola mushroom gnocchi and bourbon barrel strip steak you can complete with a dessert of raspberry crème brülée.
Barbecue Just For You
It wouldn't be Kansas without award winning barbecue, and in Lawrence you can expect no less. Bigg's Barbecue has been voted the Best in Lawrence from 2011-2015, and lives up to its title with a menu full of perfect barbecue and pub classics and even offers a few fresh dishes for those with lighter tastes. Want to finish off your barbecue with a palate cleansing dessert? Bigg's also brews their own root beer for their root beer floats. Bigg's Barbecue has become such a Lawrence staple, in addition to their multiple locations they offer a location exclusively for their burgers.
International Taste
While Lawrence offers a wide variety of American fare, for those wanting an authentic international twist to their dining Lawrence also offers Korean, Indian, Mediterranean, Thai, Mexican, Japanese, Chinese, and Italian eateries. A local favorite, Zen-zero, was voted the Best in Lawrence for Thai food and also offers delicious dining options from Nepal, Tibet, Vietnam, and Japan. For Mediterranean delights, the Mad Greek is a well-known local staple and gathering place featuring a menu with dozens of Grecian delicacies such as Gyros, Moussaka, and Hot Feta Dip alongside Italian dishes and Mediterranean inspired burgers. For international flavor with a fun Lawrence twist, Ramen Bowls offers gourmet ramen noodle bowls in a creative and extensive menu.
Dessert Never Tasted So Sweet
A Douglas County favorite so popular it has expanded past its original Lawrence store, Sylas & Maddy's Homemade Ice Cream features fresh waffle cones and ice cream made in store daily. With creative flavors such as Kansas twister, cherry limeade sherbet, and rock choc. Jayhawk alongside classic favorites, this is a Lawrence original you don't want to miss. More delectable dessert destinations include Crema Dolce Gelateria, a quaint downtown destination filled with creamy and creative gelato that always has a new flavor journey in store for you.
Everyday Goodness
For everyday gourmet, Lawrence also has a variety of bakeries and co-op style food stores. Local bakery cafes such as Wheatfields Bakery and 1900 Barker feature innovative breads, lunch menus, pastries, and paired with the Great Harvest Bread Company, are a favorite of Douglas County residents for bringing home delectable breads for family and friends to enjoy. For foodies who enjoy time in the kitchen, the Merc Co-op not only features local growers, but offers many hard to find and unique food items including local artisan made cheeses, vegan, vegetarian, and gluten-free fare, an organic deli, and fair-trade coffee. If you'd like to learn how to use your local food finds, they also offer classes on everything from Mediterranean dinners and the 'Art of the Cream Puff' to recipes geared towards easing arthritis pain.
Think we've covered all Lawrence has to offer? That's just the tip of the iceberg. With foods such as the salted caramel bacon pops at Ted's Taphouse, spaghetti pie at Tad's Pizzeria, and Lawrence's first craft cocktail bar, John Brown's Underground, the question in Lawrence is never "will there be anything to eat?" but instead "How will we ever decide what to eat next?"
What are you waiting for? Explore Lawrence, or Live the Lawrence Life by joining the growing movement to retire in Lawrence and start your culinary adventure today.