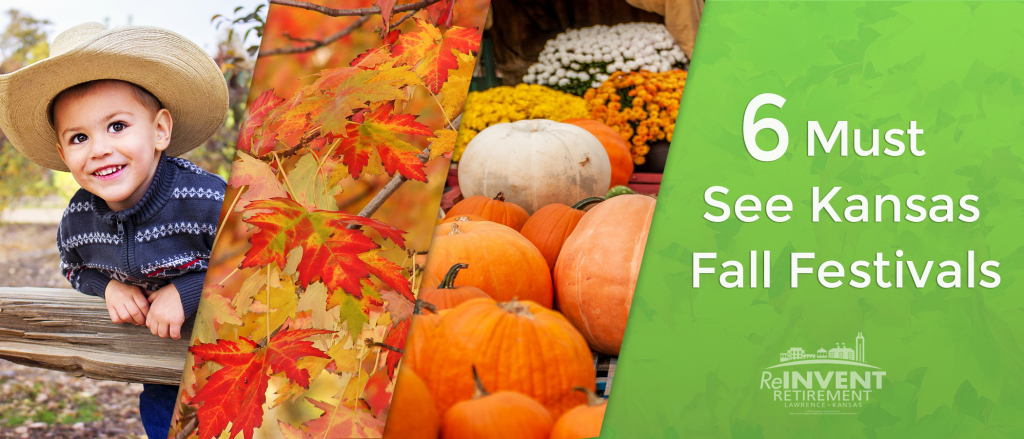 Fall into Kansas festival fun
In Kansas the excitement of the harvest season is felt strongly- when it comes to fall fun, there's no shortage of ways to satisfy a craving for outdoor air, crafts, turkey legs, or pumpkin donuts. Fall weather is the perfect opportunity to gather family and friends for an outing to an area festival, venture into a corn maze, visit a pumpkin patch, taste the season with apple slushies and pumpkin pie, or be a spectator of quirky fun such as Basset Hound races and live jousting. These select events are sure to make this fall a memorable one!
Maple Leaf Festival
A regional don't-miss favorite, the Maple Leaf Festival has been drawing thousands of people to Baldwin City each October for nearly 60 years. Held the third weekend in October, often the best time to view the changing Maple leaves, festivities include a parade, all day live music, a quilt show, craft vendors, train rides, the Maple Leaf 5k run/walk, and more. The much-anticipated parade is filled with marching bands, floats, and antique cars. Kids will love the Kids Zone crafting area featuring fun fall creations they can make themselves. The quilt show draws colorful and creative entries from across the nation and countless vendors sell their creative crafts and wares. History buffs will enjoy the historic Santa Fe Depot train rides as well as the local Black Jack Cabin tours during the festival. Baldwin City, a close neighbor to Lawrence, is only 20 minutes away.
The 2016 Maple Leaf Festival is Oct. 15-16
Renaissance Festival
From live jousting knights to hilarious antics, one of the most well known annual Kansas City festivals, the Renaissance Festival takes place every weekend from September through mid October. Themed weekends such as Shamrocks & Shenanigans, Highland Fling, Buccaneer Brewfest, Passport to the World, and the Harvest Huzzah feature special events and competitions specific to those weekends such as the Highland Games Championships, Basset Hound races, steampunk costume contest, bagpipe contest, best kilt contest, the grape stomp, and craft beer tastings.
Artisan vendors from across the nation sell hand blown glass, pottery, leather goods, jewelry, musical instruments, costumes, perfumes, and countless other unique treasures. Every weekend includes live jousting on horseback, musical groups, magic shows, comedians, medieval themed games and dancing, jugglers, acrobats, tasty turkey legs and scotch eggs. Festival goers often dress in medieval era dresses, swashbuckling pirate outfits, fun fairy costumes, and masquerade as favorite fantasy book characters. Fun for all ages, the Renaissance Festival is a fantastic family outing located 30 minutes from Lawrence.
The 2016 Renaissance Festival is held the weekends of Sept. 3 – Oct. 16
Louisburg Cider Mill Ciderfest
The Louisburg Cider Mill is the go-to place in Northeast Kansas when it comes to cider and fresh harvest goods. Open year-round, the Louisburg Cider Mill buys from local sellers to produce and sell delicious original  fruit butter, preserves, salsa, spices, and of course, a variety of apple ciders. Sparkling, spiced apple cider, sparkling apple pomegranate cider, and local made Lost Trail Root Beer provide refreshments along with many more treats for the 1 hour trip back home to Lawrence. While open year-round, the Louisburg Cider Mill comes alive each fall as they open an extensive corn maze and pumpkin patch alongside additional activities including straw forts, hay wagon rides, farm animals, and teepees.
During the fall season an additional draw to the Cider Mill is Ciderfest, a two-weekend event with live bluegrass bands, homemade kettle corn, cider donuts, inflatable fun, arts and crafts booths, pony rides, and a pancake breakfast in addition to the typical fall Cider Mill activities. Visitors at this time can enjoy seeing cider process from apple washing to the actual press right before their eyes- Your grandkids won't want to miss this festival!
The 2016 Ciderfest is Sept. 24-25 and Oct. 1-2
Weston Applefest
For nearly 30 years the Weston Missouri Applefest Celebration has been celebrating fall with a hometown feel people travel from miles around to experience. Known as one of the best fall festivals in Missouri, there's live music all day and a wide variety of treats such as apple dumplings, pies, cookies, and more to satisfy your inner foodie. A downtown parade gives the festival an exciting spirit and shows off the community of Weston.
In addition to the variety of unique Weston shops to visit, craft booths and artisans will be set up throughout the town. This year's festival features a living statue and interactive art! At an hour away from Lawrence, the Weston Apple Festival is a perfect day trip.
The 2016 Weston Applefest is Oct. 1-2
Cider Days
If you prefer to watch wild west gunfights while sipping fresh pressed cider, head to Topeka, KS, for the 35th annual Cider Days festival for the perfect blend of history, crafts, food, animals, and a fall atmosphere. You'll find northeast Kansas's largest selection of creative craft vendors as well as many fascinating realistic depictions of pioneer life, Native American cultural exhibits, and historical reenactors to watch. Animal attractions, face painting, and kids' rides also dot the landscape interspersed with delicious food options including fresh cider pressed on site using a vintage 1865 Buckeye Cider Press. Located 30 minutes west of Lawrence, this all day fun will be unforgettable.
Cider Days 2016 is Sept. 24-25
Gary's Berries
For fall fun 30 minutes from Lawrence, Gary's Berries offers a wide variety of fall fun and treats to entertain families. What began as a small family run berry operation soon turned into a full-fledged fall festival environment the locals consider to be a true necessity for enjoying the fall season. Fall treats such as apple cider slushies, pumpkin donuts, turkey legs, caramel apples, and kettle corn can be bought alongside favorites such as bratwurst, hamburgers, chicken nuggets, fudge, and fresh cut curly fries. Family activities abound with a corn maze, tug o' war, pumpkin bowling, pony rides, giant 'jumping pillows,' a corn pit, large slides, wagon rides, a pumpkin patch, and a giant rocking chair favored for family photos. Animal lovers will enjoy pig races, the goat mountain, the petting zoo, and the bunnies found in Bunnyville, a city built just for rabbits.
Gary's Berries is open for the 2016 season the weekends of Sept. 23 – Oct. 30
So what are you waiting for? With Lawrence as your launching point, these exciting events are right around the corner. Invite a friend or your grand kids and have some fun- don't forget to take photos and share your memories with us on our Facebook and Twitter!