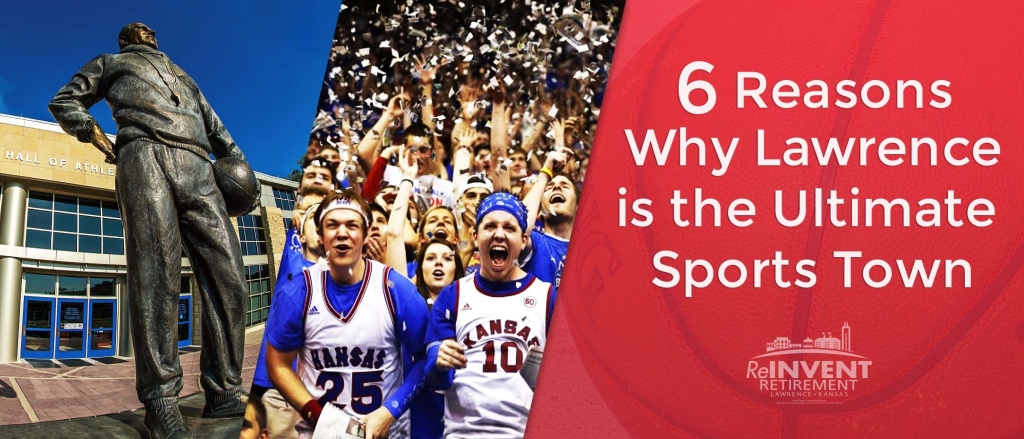 "There is something special about Lawrence" – Sports Commentator Dick Vitale
When thinking of what makes a sports town great, a town with a winning team normally comes to mind. But is there more? Lawrence, best known for being home to nationally-ranked University of Kansas (KU) sports programs, has far more to its sports legacy than meets the eye. Lawrence knows it's not just the record, it's the culture.
1- Unparalleled History

Basketball was created in Massachusetts, however the spirit of the game rests in Lawrence where its unparalleled history with the game has earned it the title of the Cradle of Basketball. This history began when James Naismith, the creator of basketball, moved to Lawrence soon after inventing the game and in 1898 became the first ever University of Kansas basketball coach. Naismith's legacy, besides the creation of basketball, includes over 40 years at KU and the creation of the National Association of Intercollegiate Athletics (NAIA).
Adding to the rich history of the game at KU, Phog Allen took the basketball world by storm when he became head coach in 1907, beginning a 50 season KU coaching career. While James Naismith is the Father of Basketball, Phog Allen is known as the Father of Basketball Coaching. Allen left his mark on the game by radically shifting what it meant to be a coach, creating the National Association of Basketball Coaches with James Naismith, being key in adding the game to the Olympics, and retiring as the winningest coach in basketball.
Sports aficionados can experience basketball history with a visit to the Booth Family Hall of Athletics where alongside exhibits dedicated to a variety of KU sports are sections featuring James Naismith, Phog Allen, Wilt Chamberlain, and many others who, while at KU, shaped the game that swept the nation. The DeBruce Center, opening in spring 2016, will add an exhibit dedicated to housing James Naismith's original handwritten rules of Basketball.
2- The Heart of College Sports

College towns with their sporting events have become such a coveted location that they are fast becoming desired retirement locations and entire businesses are focused on renting personal homes to fans during games. Yet as Lawrence residents have learned, why rent a home for a weekend when you can live there full time? Many KU alumnus find themselves feeling called back and return home to Lawrence to enjoy the culture after decades of following the Jayhawks on TV. Already known as the second best college town to live in forever and a slam dunk college town, Lawrence is very walkable and has many transit options that allow fans easy access to attending sporting events or watching a game at a local sports bar. Besides the many lifelong learning, cultural, and artistic benefits of living in a college town, KU's Lawrence location means the magic of sports is felt year-round, making even non-sports fans feel the Jayhawk spirit.
Lawrence is widely known as the best place to watch basketball. The living spirit of the game is evident when you walk into Allen Fieldhouse on game day. Built in 1955 when Phog Allen still ruled the sport, the field house has never lost its sense of wonder. With room for thousands of fans and a winning program that both the creator of the game and the father of basketball coaching poured their lives into, the culture of a game at Allen Fieldhouse drives KU to have one of the greatest home-court advantages in the country. Pop sports culture icon the Marlins Man, a sports fan who has attended over 200 NBA playoff games and 70 NBA finals games, described Allen Fieldhouse as "the best basketball experience that I have ever been to." To further its accolades, one ESPN journalist who wrote about his experience stated "You don't watch a game at The Phog as much as you go along for the ride."
4- A Big-League Backyard

Lawrence's prime location and short drive to Kansas City means access to professional sports without the need to live in a large city. With World Series winning baseball team the Royals, Kansas City Chiefs Football, MLS Cup champions Sporting Kansas City, and NASCAR races at the Kansas Speedway, there's a world of sports right in Lawrence's backyard. Kansas City, like Lawrence known as being an acclaimed sports towns, also has minor league baseball, minor league hockey, and more. At half an hour away, Topeka, KS, is home to a minor league hockey team, minor league baseball team, and three race tracks with weekly races. Not enough? Nearby Kansas City International Airport provides easy access to events across the nation whether you're following a favorite team or planning to attend the super bowl.
With an acclaimed foodie culture and award winning local brews from Free State Brewery, it's only natural that Lawrence would offer the best possible food while you cheer on your favorite team. Even though you will find typical sports bar chains, there are many local Lawrence favorites you won't want to miss.
For an Irish flair when watching sporting events, including domestic and international football clubs, Dempsey's Burger Pub offers a selection of over 100 beers alongside wines and mixed drinks. Locally sourced from farmers and crafted by a chef of Wolfgang Puck origin, Dempsey's also offers gourmet burgers. If just one pub isn't enough, the Red Lyon Tavern, a Euro-Stye pub with modern styling, has 25 beers on tap and a crowd of regulars to watch every soccer match they can.
Another local favorite, Set 'em Up Jacks features classic sports bar faire along with a selection of sandwiches, wraps, and salads. The restaurant is so well-known that lifelong patrons come from miles around for special occasions, game days, or just to treat themselves to a favorite Jacks food. Also well loved, the Sandbar has been voted the Best in Lawrence for four years in a row for it's fun drinks and sandbar subs. In addition to other eateries that offer access to watching sporting events, there is an endless variety of unique Lawrence restaurants for pre or post-game socializing.
6- Limits as Wide as Your Imagination

Why limit yourself to mainstream sports? Three local universities offer typical college athletics such as football, basketball, baseball, softball, volleyball, and track & field, yet also offer soccer, rowing, diving, golf, wrestling, tennis, and even a hockey team. Lawrence's broad sports scene also includes the annual Men's Olympic Shot Put event, the Tour of Lawrence bike race, a variety of creative 5k runs for viewing and participation, and more. Kansas City offers further variety with the American Royal, offering world class equestrian and rodeo events along with a national BBQ competition.
Ready to to join in the fun? Numerous local clubs, golf courses, and parks and rec teams offer opportunities to foster a passion for athletics through an active lifestyle. With the diverse culture in Lawrence, you can be sure that the sports opportunities, spirit, and variety will only grow. Join us for a game and experience the ultimate in sports towns, Lawrence, Kansas.