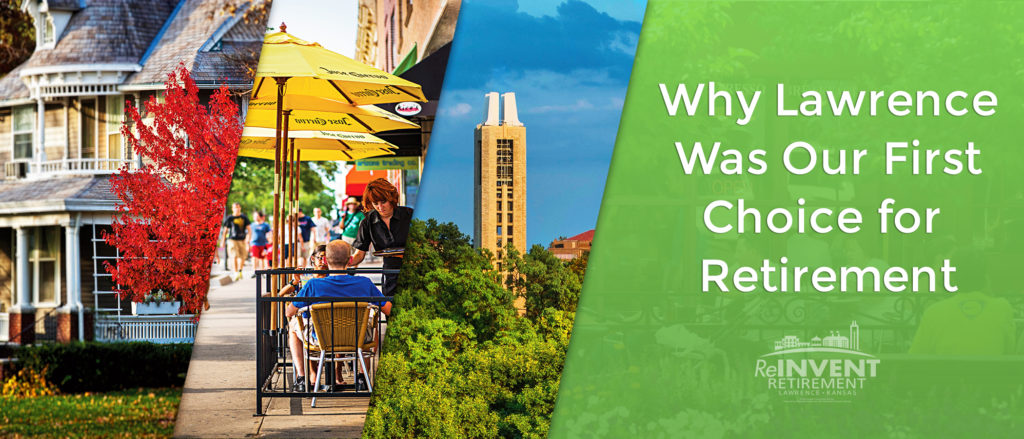 In the Fall of 2013 Mike and Barbara Hartnett decided to move from their home in Illinois and make Lawrence, KS, their retirement destination. In this interview the Hartnetts share their experience and why they enjoy reinventing retirement in Lawrence.
Q: How did you choose Lawrence and were there other communities you were considering?
A: Actually, we didn't look anywhere else. We have relatives who wanted us to move to Phoenix and Boca Raton. When my brother-in-law in Phoenix got remarried, it was an outdoor wedding in June. The temperature was 114. As for Boca, my other brother-in-law there has had the roof of his house blown off twice – twice! – in hurricanes. And on a side note, in the 80s we lived in Washington, IL, a suburb of Peoria. When we told friends we were moving to Kansas, they looked at us and said, "You're moving to Tornado Alley?". Two months to the day we moved here, our house in Washington, and the entire neighborhood was destroyed by a tornado. I think Lawrence was a good option.
Q: What has surprised you about living in Lawrence?
A: Things to do. Having grown up in Chicago, we assumed we'd be spending a lot of time in Kansas City, taking advantage of the things a big city has to offer. It turns out, we haven't spent nearly as much time in Kansas City as we initially thought because there is so much to do in Lawrence.
Also, coming from Illinois, we have been here for three winters, and we are astonished by how mild the winters are.
Q: In what in Lawrence have you enjoyed participating?
A: Every quarter the Osher Institute offers a wide variety of classes for people over 50. Each class is three, two-hour sessions with no tests or homework, and most are taught by excellent current or retired University of Kansas professors.
We have taken about 15 classes, from the History of Russia, Underground London, and Medical Ethics to Kansas Prisoner of War Camps in WWII and Impressionist Paintings. We have also met some very nice "students" at the Osher classes.
Q: What events do you enjoy in Lawrence?
A: The Lied Center presents a profusion of outstanding performers, from Wynton Marsalis and John Mellencamp to the Vienna Boys Choir and touring Broadway shows. The University of Kansas also offers a plethora of stage and musical performances, lectures, and athletic events.
Q: Are there ways to get politically informed and involved in Lawrence?
A: The Dole Institute of Politics offers a large number of non-partisan lectures and discussions about politics by national media reporters and political analysts—all for free.
Q: What do you appreciate about the Lawrence community?
A: Opportunities to volunteer. No matter what your talents, experience, and interests, there's a non-profit that would be delighted to have your help. Also, I'm a semi-retired business journalist and reported on the arts & crafts business for 35 years, and I just love the way Lawrence supports independent retailers.
Q: What do you enjoy most about the restaurant scene in Lawrence?
A: The food! There are so many excellent restaurants. A magazine recently cited, "The 10 Best Restaurants in Kansas" – and four of them were on Massachusetts Street.
Q: How did you adjust to getting around Lawrence?
A: It was easy to acclimate to the city, because of its size and so many east-west streets are numbered and north-south streets are named after states of the union. For the first six months or so, we were always showing up 15 minutes early for appointments, because it took so little time to get from point A to point B.
Q: What did you think about the housing options in Lawrence?
A: We visited a few times and really liked Lawrence, and then when we checked the housing prices, we were convinced. We were very pleasantly surprised at the prices and the affordability of housing.
Q: Have you had satisfying care while in Lawrence?
A: Excellent professionals. We have been very pleased with the doctors, dentists, lawyer, and accountant we have used.
Q: How are Lawrence's outdoor amenities?
A: We were astonished by the facilities, and the variety of classes for all ages, of the Park District. The fact that Lawrence won as host city for the National Junior Olympics next summer is proof of what's available here.
Q: What is unique about the Lawrence community?
A: The diversity of the population. Because Kansas University attracts students and faculty from all over the world, Lawrence is filled with interesting people.
Q: What would you suggest to others looking to retire?
A: To come join us!
If you want to discover Lawrence as Mike and Barbara have, call 855-215-5329 to visit with one of our reinvention coaches. In Lawrence, we will help you reinvent retirement and live the life you've always wanted.