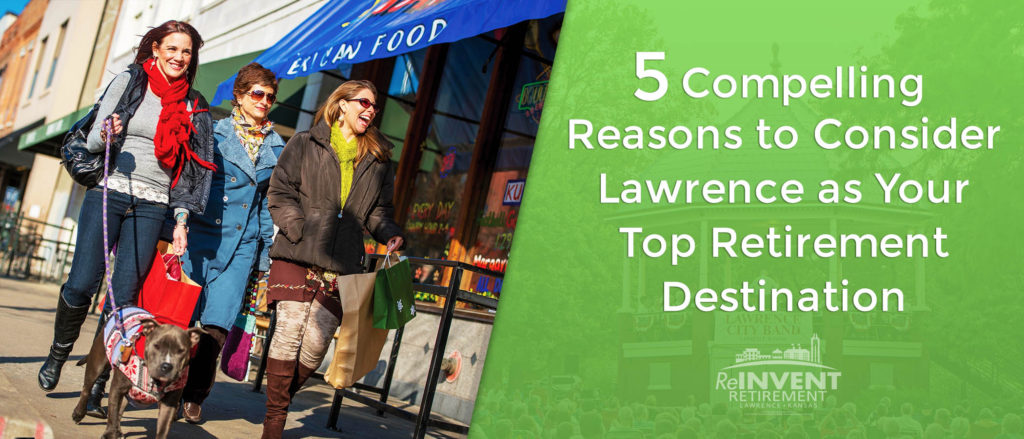 When planning for retirement, several short and long-term considerations come to mind: 
Affordable Housing – where to live, what is the community like, what is the cost of living?
Retirement Experience – how much or how little to be involved in, what are the choices,

and

does it fit your current lifestyle?

A Destination – does it draw visitors in and how does it fulfill your retirement dreams?
Free Recreation – what activities,

groups, and

recreational opportunities exist and at what cost?

Perfect Size – how does it compare in size for the amenities you are

seeking

?
It's often hard to imagine moving, downsizing, or starting over, but often the benefits outweigh what it takes to reach what we like to call 'reinvention'.  Integrating into a new, vibrant community is one way of getting your retirement reinvention underway.
Affordable Housing
Lawrence offers many choices from a housing perspective. In search of an older Victorian home, a condo, an apartment, ranch-style house, or long-term assisted living? Lawrence and its surrounding communities offer all of these and more. Tight-knit communities with safe neighborhoods and close proximity to entertainment are readily available throughout Lawrence.
According to Forbes, Lawrence is 7.6% below the national average for cost of living and is ranked third in the nation for education. It's an affordable place to live that offers a variety of exciting and fun things to do.
Retirement Experience
Becoming and staying socially connected ranks as one of the most important aspects of retirement.  Lawrence sets the stage for a host of activities and opportunities to fill up your social calendar – or gives you options to have as little or as much activity as you want. With its mid-western friendly vibe, connecting with others quickly, or becoming a destination for family visitors is easy, affordable, and – most of all – fun.
For the sports lover, Lawrence is filled with a lively love for the Kansas Jayhawks. However, Lawrence cheers for many other sports including the Kansas City Royals, the Kansas City Chiefs, and Sporting Kansas City. Lawrence also has a sports pavilion that allows anyone wanting to join in to have competitive or leisurely fun. This active-lifestyle city does a great job of not leaving anyone on the sidelines.
Fine and performing arts experiences in Lawrence are abundant. World class entertainment venue the Lied Center offers performances by renowned groups including the Russian National Ballet, popular artists such as Kristen Chenoweth and the Beach Boys, traveling Broadway shows such as Beauty and the Beast and Cinderella, and even noted speakers including Ira Glass and Bill Clinton. Theatre goers can also enjoy shows from Theatre Lawrence, KU Theatre, and the Lawrence Arts Center while music lovers can experience the variety of the Lawrence music scene from performances by the KU School of Music and the Lawrence Community Orchestra to the Kansas State Fiddling & Picking Championships and beyond.
Conveniently located close to Lawrence Memorial Hospital and University of Kansas Medical Center, Lawrence also offers top-notch nationally ranked health care. Knowing how vital healthcare is to retirement planning, Lawrence and its surrounding communities have provided excellent choices to ensure quality healthcare options are covered.
Thinking of trying a new hobby or skill? Lawrence can help you fulfill your dreams by offering a variety of options for lifetime learning. Surrounding colleges such as the University of Kansas, Baker University, or Haskell Indian Nations University give countless options to cultivate your quest for knowledge. Similarly, there are also local groups and organizations such as Osher Lifelong Learning Institute that promote the joy of learning, while fine arts aficionados can take classes on anything from writing to ceramics to dance at the Lawrence Arts Center or the Senior Resource Center for Douglas County.
Perfect Size
Lawrence offers a small-town feel with big amenities. With a population of approximately 91,000, Lawrence is the sixth largest city in Kansas. Located 25 miles east of the state's capitol, Topeka, and 35 miles west of Kansas City, Missouri, it is centrally located for small day trips or offers enough in town to keep you at home. With virtually no traffic, Lawrence is easy to get around yet has a booming art and cultural scene and a vibrant downtown. With its small town feel, it is easy to network to find friends of all ages.
With numerous opportunities for involvement and several wonderful communities and neighborhoods that feel like home, the transition to Lawrence is filled with resources to make this lifestyle change an easy one. Whether you are looking for a small town, or a larger destination town filled with recreational activities, Lawrence and its surrounding counties have so much to offer. Look no further for an educated, fun, diverse, and safe place to retire.
For more information on considering Lawrence as your top retirement destination, visit livelawrencelife.com.