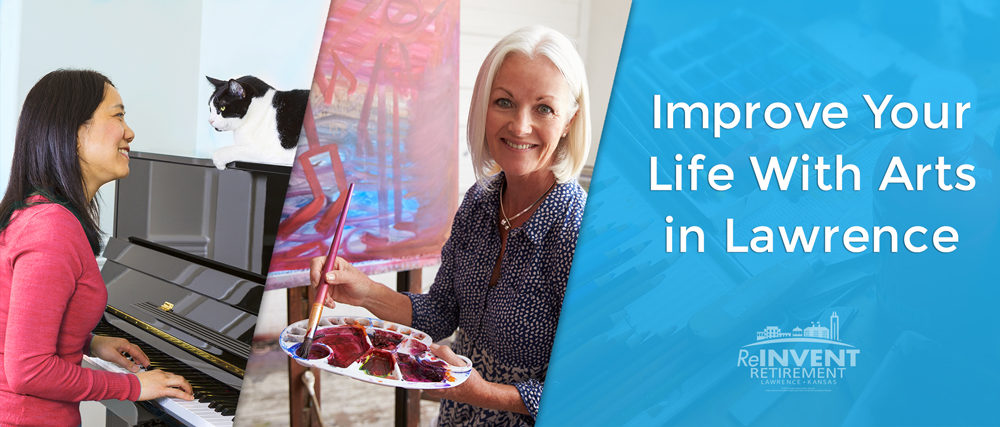 "Art washes away from the soul the dust of everyday life." – Pablo Picasso
Creativity and the arts have long been championed as important in every stage of life, but did you know they are especially important and beneficial in your retirement years? From reducing stress to increasing problem-solving skills, fine and performing arts not only feed your creativity—  they improve your entire lifestyle.
Good For the Mind, Good For the Soul
How do the arts improve physical health and quality of life? A study created by the National Endowment for the Arts and George Washington University measured the impact of community-based cultural programs on the general health, mental health, and social activities of people age 65 and older. The results of the study showed that those adults involved weekly in an arts program reported:
Better health, fewer doctor visits, and less medication usage

More positive responses on the mental health measures

More involvement in overall activities
Arts and culture are integral to well-being at all stages, but notably when reaching retirement age. The Journal of Aging Studies reported that aging adults involved in creative activities felt a stronger sense of purpose, competence, and growth, and reported stronger development in problem-solving skills, motivation, and management of their everyday lives.
"Community-based cultural programs for older adults appear to be reducing risk factors that drive the need for long-term care." – Creativity and Aging Study
Being involved in the arts doesn't have to include portrait exhibitions or instrumental performances. Simply listening to music alone can decrease stress, lower your blood pressure, increase mental alertness, and improve your memory and mood.
Dance also improves health and well-being. According to the University of California at Berkeley, dance improves balance, walking speed, reaction time, and cognitive performance. It can also count as your workout; the study found it to be as effective as a moderate aerobic exercise program at improving heart health. Studies also show dancing helps reduce depression, anxiety, and stress.
Join in on the Fun
Retirement is the stage of reinvention and following your passions, the perfect time to chase a lifelong fine arts dream. Community theaters, arts organizations, galleries, and music schools all offer opportunities for reconnecting and engaging in the arts. Opportunities to try something new abound. College towns in particular offer a wide variety of entertainment, culinary endeavors, activities, festivals, and more. Long considered to be the most "diverse, and intellectually stimulating places in the country", college towns like Lawrence add a dimension of intermingling of demographics and energy. How can you bring the arts into your life?
Take a Class
Whether you've always wanted to try your hand at metal craft jewelry or wish to pen your memoirs, there's sure to be an art class for you at any skill level. In Lawrence the go-to location for all things creative is the Lawrence Arts Center, a place not only known for its innovative shows and exhibitions, but for its extensive classes for all ages. They offer opportunities to learn to write, paint, act, dance in a variety of styles, and create pottery, paper, books, stained glass, and much more. Local residents age 50+ can ask the Arts Center about the Douglas County Senior Services Scholarship for the Arts to help maximize their arts experience.
Attend an Event
Even attending a fine arts event can provide the health benefits of music and art. In Lawrence the Lied Center, a world class concert venue, hosts a wide variety of renowned instrumentalists, vocalists, and performance groups for every taste and style such as classical hip-hop duo Black Violin, the Blue Man Group, the AnDa Union Mongolian string players, KANSAS, and a plethora of other performers. For more traditional offerings the KU School of Music provides a variety of orchestral, operatic, choral, symphonic, and brass ensemble music. Their event series provides both free and low-cost entertainment options year round. For theatre-goers, Lawrence offers top rated talent and theatrical experiences without having to venture into the city with traveling Broadway shows such as Beauty and the Beast, MAMMA MIA!, Memphis, and Broadway legends such as Bernadette Peters, Kristen Chenoweth, and Patti LuPone year-round.
Take to the Stage
If performing is more your style, consider taking music lessons or joining a choir or instrumental ensemble. Lawrence offers a myriad of ways to participate and help you find your musical talents; the KU university band, Lawrence Community Orchestra, New Generations Band, Intergenerational Choir, or the Lawrence Civic Choir are just a few. Aspiring musicians of any age can take music classes at one of our three easily-accessible area universities or from one of our many local talents who offer private lessons.
"Vintage Players has enriched my life by carrying me through the years of caring for a chronically ill husband. I have been guaranteed a full hour of laughter each meeting. I try to return the favor to people who come see us." – Vintage Players Member
Theatre outlets can be found in the Lawrence Arts Center or Theatre Lawrence. For an acting group specifically consisting of older adults, Theatre Lawrence's Vintage Players gives on-stage performances of their own as well as performing at nursing homes and the Kids at Heart program where the Vintage Players work with local second graders through story-telling and acting.
Live the Art Life!
With numerous opportunities for volunteering, gallery-going, and festival-attending, there's no shortage of ways to live art in the everyday in Lawrence. To be up close to the action, consider reaching out to locations such as the Lied Center, Theatre Lawrence, or Van-Go, a program that involves at risk teens and youth with public art, about volunteer positions that can make supporting the arts a regular part of your life. Downtown Lawrence also provides a wealth of arts locations to browse, shop, craft at, and enjoy such as the Phoenix Gallery, Sunfire Ceramics, Made on Mass, and more. The newly renovated Spencer Museum of Art, a free admission museum filled with enthralling pieces of art from classical to modern and frequent arts events to attend.
For art enjoyment from the comfort of home, try the latest modern adult coloring trend and benefit from the relaxation and mental stimulation the arts bring with this Jayhawk adult coloring page from the KU Alumni Association.
The benefits of exploring the arts later in life are nearly as numerous and varied as the opportunities available to do so. Enrich your retirement through one or many of these avenues, and tap into the diverse experiences awaiting you!