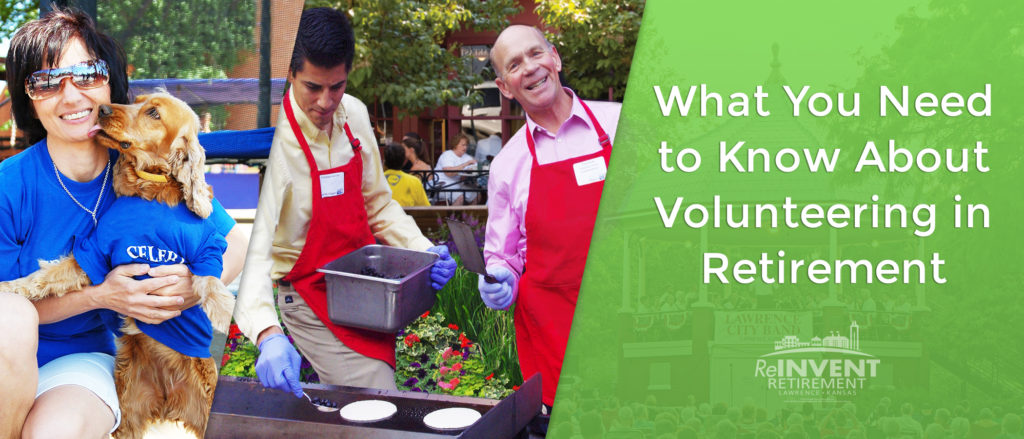 As retirement approaches, many find themselves pondering the activities and social interactions they will choose to fill their time, as hours previously spent in their paid careers will now be unstructured and free. Here's why even a few hours of time spent volunteering can help you stay involved and promote better health.
The Facts
Not only is volunteering a proactive way to connect with your community and your passions, it can greatly improve your longevity and quality of life. According to the Corporation for National & Community Service, volunteering provides a sense of accomplishment that aides in beneficial mental health, provides a sense of purpose, leads to better physical health, and strongly improves life satisfaction, especially for retired seniors.
The Corporation also found that those who volunteer have lower levels of depression in part due to the physical and mental health benefits of a volunteer lifestyle. One study completed in 1999 recorded a 44% lower mortality rate over a 5-year period in older persons who volunteered with two or more organizations as opposed to those who did not volunteer. Another study by Merrill Lynch concluded that 85% of retirees who volunteer have formed new friendships by doing so.
"When individuals volunteer, they not only help their community but also experience better health in later years, whether in terms of greater longevity, higher functional ability, or lower rates of depression"
– the Corporation for National & Community Service
Encore careers for pay also contribute to health and well-being, with one study in the Journal of Occupational Health Psychology showing that those who continue working even part time after retirement have fewer major diseases or disabilities than those who quit work completely. A full or part time encore career or following a passion for entrepreneurship can also give the sense of purpose that makes volunteering so well known as an integral part of longevity.
The Reason
Before deciding where and when to volunteer, assess your goals. US News states that asking a few simple questions can align your desires and expectations for a fulfilling experience.
Why are you volunteering?

 

Determine why you want to volunteer. It could be anything from making new friends to finding new interests to sharing what you love, but make sure you are doing it for reasons that are right for you.
About what are you passionate?

 Retirement is a time to follow your passions, and there are often more volunteer opportunities around than you initially realize. Ask local fine arts venues, community organizations, parks and recreation departments, or your favorite non-profit.

Does your availability match the commitment?

 

Be realistic about your schedule. Many organizations are highly flexible and if one organization does not work, the right organization for you can be found. You have the right to decide how much time you should give. Committing to a schedule that does not work well for you creates stress and dissatisfaction.
The Location
Lawrence and its surrounding communities have a wide variety of volunteer opportunities. The culture surrounding this top university town has created a landscape rich with non-profits and organizations with volunteering for disaster relief, education, fine arts, animals, environment, health and medicine, homelessness, housing, politics, hunger, sports, recreation, and overall community needs. To get you started, here are a few organizations in Lawrence and Douglas County that need volunteers:
1- Court Appointed Special Advocates (CASA) – Make a difference in children's lives by representing them in hearings and being an advocate for their well being.

2- Lawrence Humane Society – Use your love for animals to help stray, homeless, and abused pets. Volunteer opportunities here range from helping in-house with pet enrichment and client care to becoming a pet foster parent.

3- Lawrence Memorial Hospital – Help patients and families while learning new skills, meeting new people, and making a difference. Some ways to volunteer with LMH include:
Fit Assist – Become an 'exercise buddy' for someone needing physical assistance with an exercise routine, providing positive encouragement and feedback along the way.
Gift Shop – A much-loved Lawrence location, this busy area keeps you on your toes as you assist customers or check in and display merchandise.
Life Stories – Interview patients about their likes, dislikes, and personal history to type up in a story format for inclusion on the patient's chart to allow caregivers to learn more about the patient.
And more! – Patient ambassadors, reception areas, wayfinders.

Learn more

about the many flexible opportunities through Lawrence Memorial Hospital.
4- Douglas County United Way – Support local philanthropies through a variety of ways. Teach a child to read, pack backpacks for underprivileged kids, feed families in your area, and more.

5- Just Food – Volunteer with an organization providing thousands with food every month. Assist new clients with registration, pick up local produce, deliver food to families, or help in the office with this vital part of the Lawrence community.
6- Local museums – Douglas County is rich with history and learning centers that provide interesting volunteering environments. Volunteer at the Watkins Museum of History located in a beautiful historic bank building, nearby Lecompton's Constitution Hall national historic site, the renowned KU Natural History Museum, and many more.
7- Fine Arts – Lawrence, as a university town, has no shortage of fine arts. Volunteer at the Lied Center, Theatre Lawrence, the Lawrence Arts Center, or at one of the many arts, music, and culture festival held in Lawrence.
8- The Senior Resource Center for Douglas County – Connect with seniors in Douglas County by delivering meals to homebound residents, helping with special projects, providing administrative or professional assistance, or being a transportation driver.
9- Want to see more options? Visit a Douglas County-wide bank of volunteer opportunities  at volunteerdouglascounty.org.
If you would rather start a new endeavor through an encore career for pay, whether part or full time, an encore career can also help you ReINVENT your next chapter. Known nationally as one of the best areas for entrepreneurs, many businesses in Lawrence are happy to hire seniors. If your goal is to start your own business, KU and the Lawrence Chamber of Commerce offer help, information here.
For help navigating the landscape of encore careers and volunteering in Lawrence, or to meet in-person with fellow retirees to help you learn about all Douglas County has to offer, call 785-842-0543.
Volunteering or starting an encore career is a great, fun way to stay connected and is vital to mental well-being, health, and a vibrant legacy. Start the next part of your journey today!