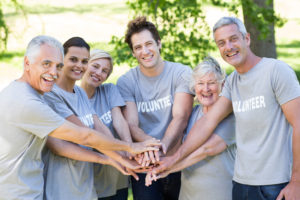 Volunteer
Can you give an hour or two?
You can make a difference in the life of  area seniors by giving of your time.
Volunteer at SRC
There are numerous volunteer opportunities at the Senior Resource Center.
Current areas of need:
– Assist with strategic planning on senior issues
– Better Senior Living distribution
– Data entry
– Lunchtime Receptionist
– SHICK Volunteer Counselor
Please bring completed SHICK Application Form to Lori Phillips.
For more information download the SHICK Volunteer brochure, or email Lori at lphillips@YourSRC.org or call 785-842-0543.
We are flexibile! Volunteer as often as you have time.
Once a month, once a week, once a day.
To get involved and become a SRC Volunteer, contact Stefanie Macfarlane at 785- 727-7884 or smacfarlane@YourSRC.org
or bring your completed Volunteer Application to our office.
Volunteer in the Community
Douglas County is full of other opportunities to volunteer. For the single best place to view opportunities and/or sign up to be notified when something appears of interest to you, go to the United Way Roger Hill Volunteer Center or call 785-865-5030. Be sure to check out the current issue of Better Senior Living where we highlight an area senior making a difference volunteering in the community.