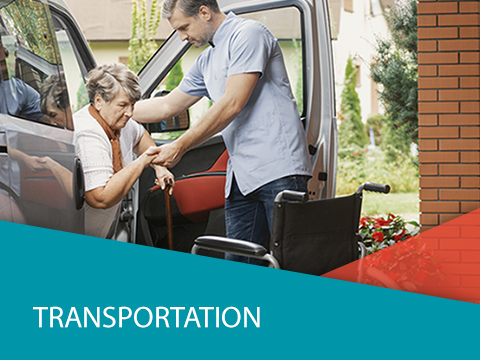 Transportation
One of the largest needs of the aging population in Douglas County is transportation. Whether it be for older adults who no longer drive, or active seniors who need assistance after a procedure or while their personal vehicle is in for repairs, area transportation for seniors is a huge need.
Throughout the city and county, there are several options to assist seniors with their transportation needs.
Senior Wheels, a division of the Senior Resource Center has been providing origin-to-destination transportation to seniors across Douglas County since August 1973. Starting with one minivan, the Senior Wheels Program has expanded to six vehicles, providing an average of 900 rides per month to seniors throughout Douglas County.
Hours of Operation
Monday – Friday
7 a.m. – 3:30 p.m.

Service area
Douglas County

Qualifications
Age 60+
Cost
$4.00 one-way/$8.00 round-trip within same city limits
$6.00 one-way/$12.00 round-trip across city limits within Douglas County
Scheduling
To schedule a ride call 785-727-7876 from 8:30 a.m. – 4:30 p.m. Monday through Friday
www.yoursrc.org/senior-wheels/
Since 1978, Independence, Inc. has served as a resource in Lawrence and Northeast Kansas through our mission to maximize the independence of people with disabilities through advocacy, peer support, training, transportation and community education.
Hours of Operation
Monday – Friday
8 a.m. – 4 p.m.

Service area
Douglas County

Qualifications
Age 60+, Disabled, General Public
Cost
$3.00 one-way in town, $5.00 one-way in Douglas County, $30.00 for out-of-town medical trips
Scheduling
To schedule a ride call 785-843-5576 from 8:30 a.m. – 5 p.m Monday through Friday.
www.independenceinc.org
Lawrence Transit provides regular fixed-route service as well as door-to-door service (for those who qualify) for the community of Lawrence.
Hours
Monday – Saturday
6 a.m. – 8 p.m.
Service area
Lawrence city limits

Qualifications
Fixed Route: General Public
T-Lift: Eligible Riders
Examples of people who may be eligible are those who, because of a disability, are unable to do the following:
• Get on or off a regular bus
• Walk two city blocks or more to access a fixed-route
• Grasp coins, tickets, or handles
• Read, understand, or follow bus information
Cost
Fixed Route: $1.00 for general public, $0.50 reduced fare*
*Individuals who are certified for the T Lift qualify for reduced fare on the T with an ID card provided by Lawrence Transit System.
T-Lift: $2.00 one-way

Scheduling
To schedule a ride call 785-312-7054 from 8:00 a.m. – 5 p.m. Monday through Saturday
www.lawrencetransit.org or www.lawrencetransit.org/ada-services