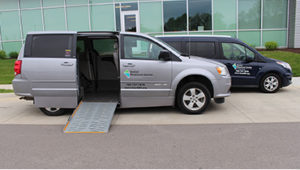 Transportation
Senior Wheels
Senior Wheels of SRC provides Douglas County seniors door-to-door transportation for medical, nutritional, and personal purposes. Transportation for individuals who use a wheelchair lift or a ramp is available; just let us know your preference when scheduling your ride. Senior Wheels operates within all of Douglas County: Lawrence, Eudora, Lecompton, and Baldwin City. 
To schedule a ride call (785) 727-7876 or reserve a ride online through ShuttleBot.
Rides are available Monday-Friday 7:00 a.m. – 3:30 p.m.
Senior Wheels Fees
(Senior Wheels Fees are subject to increase starting January 1 each year)
City Rides
Within same city limits, including Lawrence, Eudora, Baldwin City, etc.
$4.00 one-way/$8.00 round-trip 
County Rides
Outside of city limits within Douglas County
$6.00 one-way/$12.00 round-trip 
One-way rides from surrounding areas can be up to $15.00.
Rates vary so be sure to ask when scheduling your ride. 
Are you a frequent rider?  Purchase Senior Wheels Punch Cards
Click below to purchase Senior Wheels Punch Cards Online.
Each Punch Card includes one FREE Bonus Ride!
Senior Wheels City Punch Card $40
Senior Wheels County Punch Card $60
New Rider Form 
Please complete the form below and click submit. 
Need Assistance?
To talk with someone about our transportation services and others in Douglas County call Senior Wheels Dispatch at (785) 727-7876 or use our online contact form.